"Automatic Verification and Analysis of Complex Systems" is an autumn school focussing on automated formal methods in computer science and their application to the analysis and verification of complex embedded systems. Targeting primarily PhD students and young researchers with an interest in safety-critical embedded systems, the technical program comprises talks from 12 specialists in the field of automated formal methods, covering the range from hard real-time systems over hybrid systems to dynamically restructuring systems of systems.
Poster (18 MB), Full call for participation
Please see the program website for a detailed schedule of the talks.
Overview:
Werner Damm (Carl von Ossietzky Universität Oldenburg, D)
Hybrid Systems:
Real-Time:
Systems of Systems:
The slides for the talks are available on the program site.
The autumn school will be held after the AVACS Concluding Colloquium, September 29.
The autumn school will be held at the Carl von Ossietzky University Oldenburg, Haarentor campus (location in google maps, OpenStreetMap).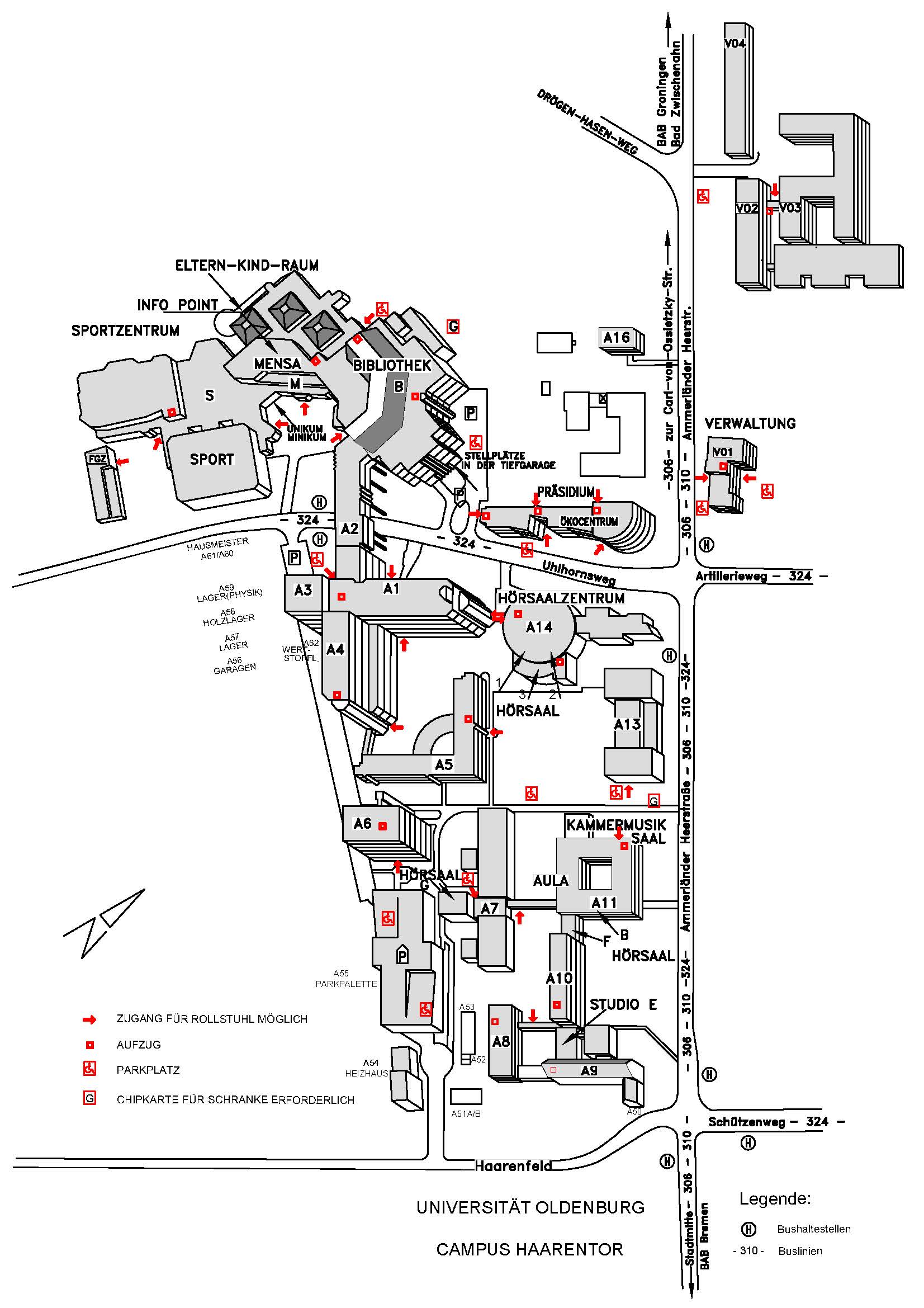 By taking the buses of line 306 (see below for transportation in Oldenburg) to the stop "Universität", you will easily reach the main entrance of the university campus in Oldenburg Haarentor.
From there, we will make sure that a lot of signs will guide you the way to the front desk of the autumn school and the lecture hall.
All lectures will take place in A14 ("Hörsaalzentrum"), the main lecture hall of the university.
Getting to Oldenburg
From within central Europe, you can reach Oldenburg by train. In order to find your connection, use the website of DB (Search for train connections) and enter "Oldenburg (Oldb)" as your destination. Be careful not to travel to Oldenburg(Holst)! For many connections within Germany you can also directly buy a ticket online and print it out (the ticket is only valid in connection with an identification card, that you selected during purchase). This is also possible for some international connections, however, not for all of them. In Germany you can also buy tickets at automatic vending machines and counters in virtually every station. Otherwise, please use the services offered by your travel agency.
The closest international airports are Bremen (BRE), Hamburg (HAM), and Hannover (HAJ). Once there, you can use the train to get to Oldenburg (Search for train connections, you can directly enter the airport identifier as the point of departure and again Oldenburg(Oldb) as destination) or a taxi (round-trip tickets from Bremen are available for €89). If your flight is scheduled to arrive late at night or early in the morning, pay special attention to limited train services at those times.
If you you are flying to Hamburg, FlixBus can take you from Hamburg Hbf (Hamburg central station) to Oldenburg.
Transportation in Oldenburg
Unless you plan on renting a
bicycle
, using the city busses for getting around is probably the best option. The Haarentor campus is located at bus stop "Universität". Busses must be entered through the front door and tickets always be shown to the driver. You can also buy a ticket from the driver by naming the destination stop. From all bus stops within the city, a ticket of "Preisstufe 1" (€2.30) is sufficient (from some stops that are very close to the destination). There are different types of tickets that allow you to save some money depending on how intensively you use the buses.
By selecting "Straße/ Hausr." instead of "Haltestelle" in the bus connection search forms, you can directly enter any address, e.g. also the one of your hotel. The result page will then also reveal the name of the closest / most suitable bus stop and even maps showing which way to walk to get there.
The following hotels have rooms available:
All prices are per night and per person including VAT. Please ask for a confirmation of the price when booking, as we have no influence on potential changes in price since the time we requested them.
Travel information on Germany:
If you have some spare time left, make sure to take a walk through the old town and to take a look at sights like the Lamberti church, the castle, the old townhall, and the Schlossgarten. Stroll through some of the shops, get a hot chocolate in one of the nice cafés, and maybe pick a museum (from history to modern art) or a play, concert, or opera in the Staatstheater. On Wednesdays, Fridays, and Saturdays, the later the night, the more the city fills up with young people heading to bars and clubs. So if dancing the night away is part of your cultural experience, don't be there too early...
Registration will be possible until September 25, 2015
Please download this registration form, which you need to print out, fill out, sign and either
scan and send via e-mail to autumn2015@avacs.org or
send via telefax to +49-441-9722-502
Payment of Registration fee
Unfortunately we are not able to offer you the most comfortable way of online payment by credit card. But you now have three options for payment:
Money Transfer
Participants from Europe are strongly encouraged to pay by money transfer, although credit card payment is possible, too. If you choose money transfer, please use the following information:

            Account Holder:         Universitaet Oldenburg
            Bank:                   Landessparkasse zu Oldenburg (LzO)
            SWIFT-BIC:              BRLADE21LZO
            IBAN Code:              DE 4628 0501 0000 0198 8112
            Reason for transfer:    AVACS School 2015 / YOUR NAME
            
Please don't forget to state the Reason for transfer (AVACS School 2015 / YOUR NAME) when processing your payment via money transfer.
Credit Card
Participants from non-European countries are encouraged to use this way of payment.
Either you fill out this form with your required credit card information and send it via telefax to +49-441-9722-502 or give the information via telephone to Mrs. Kathrin Kuper (+49-441-9722-501), or
you are going to pay onsite with your credit card on arrival at the Autumn School between 8 and 9 a.m. on September 30.
Registration fee
The participation fee is €140 (approx. $156) for early registration and €180 (approx. $200) for normal registration. Early registration was possible until September 6, therefore only normal registration is possible now. The registration fee covers the lectures, course materials, and a social event including a conference dinner.
Refund policy
A refund request received until September 10 is eligible for a refund of the fees with a €40 cancellation fee.
A refund request received after September 10 and until September 23 is eligible for a refund of the fees with a €70 cancellation fee.
We cannot offer refunds after September 23.
The 2nd AVACS Autumn School on "Automatic Verification and Analysis of Complex Systems" is organized by the large scale transregional research center AVACS, funded by the Deutsche Forschungsgemeinschaft DFG.
Inquiries can be addressed to autumn2015@avacs.org.